Look at this Insiders,
I'm flying to Little Rock tomorrow and this is my first time attempting to take advantage of SPG/Delta crossover rewards.
I was told yesterday I would get an upgrade due to my Platinum status(see attachments) Now today I'm getting a different answer. Delta is saying I'm not eligible for an upgraded due to that fact I'm traveling with someone. But per the T&C, if didn't add them to the reservation my companion wouldn't been eligible the free bag and Priority Boarding.
I'm sooo lost........this Crossover Rewards is confusing. Have anyone been successful with this program? please help
(T&C) ----> https://www.starwoodhotels.com/preferredguest/account/benefits/delta/terms.html?language=en_US
Below is the conversation via Twitter
Starguy:
@Delta What you mean Check in unavailable! I been waiting all day to check in for this upgrade????
Delta:
Online check-in is not available until 24 hours before your flight. You tried checking in too early. Try again at 4:25 pm.*TAC
Starguy:
Ok I checked in, why I'm not on the upgrade list?
Delta:
I've been advised that because you are traveling with a SkyMiles member who is not a Medallion or Starwood Preferred, you are ineligible for upgrade.*TAC
Starguy:
Your T&C with SPG do not state this information! In plus I needed to book the flight together for the free bag (available for up to three additional passengers traveling in the same reservation as the SPG Member)...(Priority Boarding is also available for up to eight passengers traveling in the same reservation as the SPG Member) so if I didn't keep him on the reservation he would have lost those benefits!!! Just update me not him please ? @Delta @spgassist
Starguy:
I read the terms & conditions again and it states I'm eligible for an upgrade period! It do not state if I have someone on my reservation it will void my upgrade! I paid an extra $100 for main cabin vs basic economy now you telling me something different! Not happy! @Delta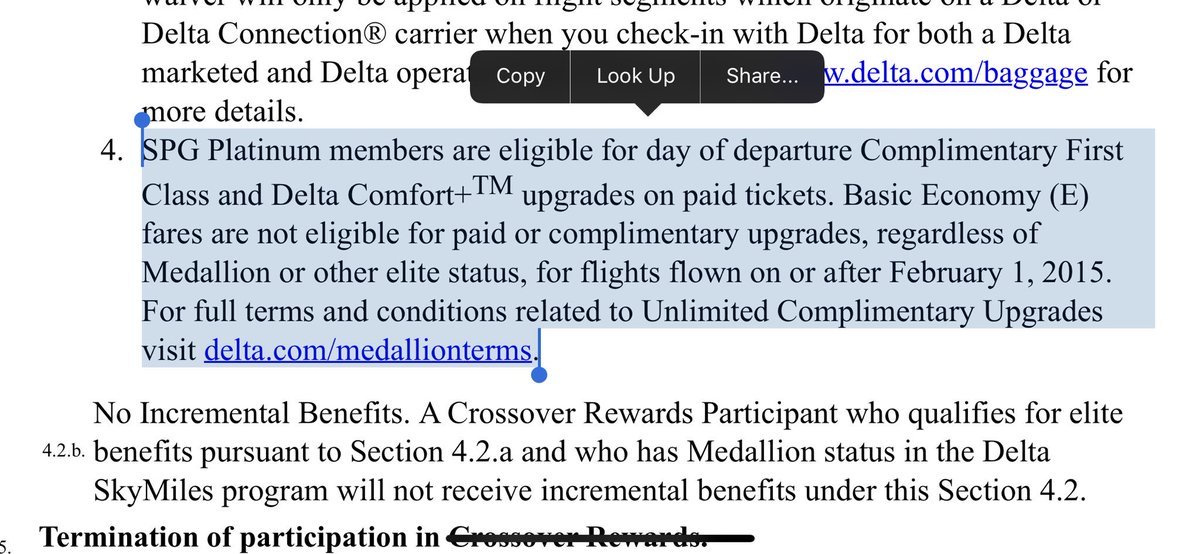 update at 6:30pm
@spgassist
Thanks for your message. We will look into this and have someone follow-up with you at the soonest opportunity.
update at 7:40pm
Delta:... if I divide your record into 2 separate ones I might be able to get this done for you. Is it okay with you if I go ahead and divide? Once I divide it cannot be undone. It will just mean that you will each have your own confirmation number.*TAC
Starguy:
The free bag and priority boarding is showing up for both of us on the app. So if you divide our reservation, my companion would lose the free check bag and priority boarding right?
Delta:
Let me double-check for you.*TAC
Delta:
Your companion will not receive the flight benefits of priority boarding or free checked bag if you're divided. I'm sorry to disappoint. However, what would you like for me to do? Keep it as is? *TAC
Starguy:
(1/2) So let me try to understand this. If I keep it as is, I would qualify for 4.2.a.i(Priority check-in), 4.2.a.ii(Zone 1 priority boarding), 4.2.a.iii(First checked bag free) only and not 4.2.a.iv(Complimentary First Class and Delta Comfort+)?....
(2/2)however if I separate the reservations, then I would qualify for all above, but my companion would lose all benefits?
https://www.starwoodhotels.com/preferredguest/account/benefits/delta/terms.html?language=en_US
Delta:
That is correct. *TAC
24 hours later:
Delta:
Hello, After reviewing your reservation. You are traveling with a companion and SPG members enrolled in Crossover Rewards are not eligible for complimentary companion upgrades. *HYC
Starguy:
This issue was not my companion being upgraded! I (the @SPG Platinum member) was not showing on the upgrade list and I was asking to get placed on it.
(Now delta decided to contact me personally)
Delta:
I understand. However, you wouldn't be able to be on the upgrade list with an additional person in your party. *HYC
Starguy:
CC:Starwood
And the point I'm trying to make is: I spent a lot of money buying main cabin vs basic economy, b/c per the T&C "Basic Economy fares are not eligible for complimentary upgrades" so I purchased the main cabin ticket and agree on the terms. Now delta is to changing the terms on me!  How is this fair? I should have just purchased Basic Economy! This information is about having an extra party would void the upgrade option is not listed in the terms and conditions. I feel scammed, delta stole my money and I'm very upset. I want my money back! I will escalate this issue!