Senia was Honolulu's most anticipated new restaurant ever and continues to be one of its hottest restaurants today.  And recently, Mrs. Island Miler and I got to try the more casual restaurant Senia lunch service.
About a year ago Mrs. Island Miler and I got to check out Hawaii's most anticipated restaurant, Senia.  If you don't already know, the restaurant is the brainchild of Chefs Chris Kajioka and Anthony Rush.  Kajioka, as you may remember, was the Executive Chef of Honolulu's super exclusive Vintage Cave.  Rush has quite the pedigree too, which you can read more about here.  And the two met during a stint at Chef Thomas Keller's Per Se in New York City.
Anyway, when Senia opened, they didn't offer lunch service.  However, sometime last year, they did add a lunch option, which is available Tuesday through Friday from 11 a.m. to 2 p.m.  And, thanks to a recent weekday holiday, we were finally able to give Senia's lunch service a try.
Location + Service
As you may recall, Senia is in Honolulu's Chinatown next to another hot restaurant: The Pig and the Lady.  Parking is available in a number of municipal lots at low rates, with Harbor Court and the Marin Tower being the two I'd recommend nearby.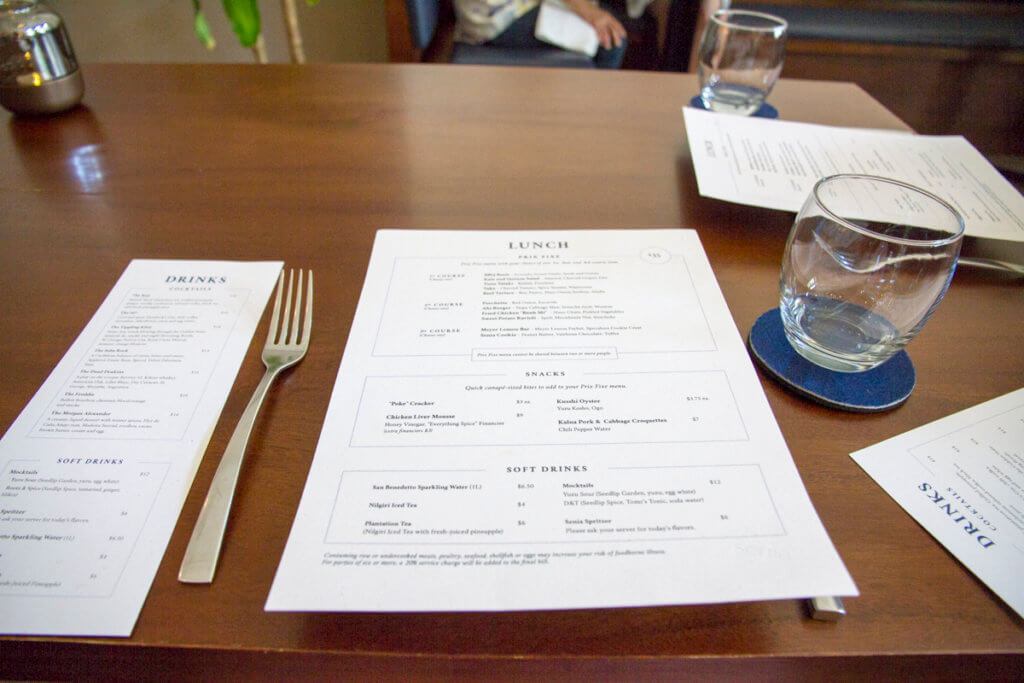 As far as the restaurant goes, check out my post about the dinner service for more details.  And while service at dinner is casual and friendly, lunch is similar, though just a tad more relaxed in my opinion.  Either way, though, reservations are highly recommended.  Oh, and the Chef's Counter at lunch has the same menu, unlike at dinner.
Drinks
The primary clientele for Senia at lunch are the area's businessmen and women.  And because of this, the restaurant offers a very diverse drink menu containing cocktails, beer, wine, and mocktails.  On our visit, Mrs. Island Miler and I chose to sample some mocktails.  For her drink, Mrs. Island Miler picked the Roots & Spice.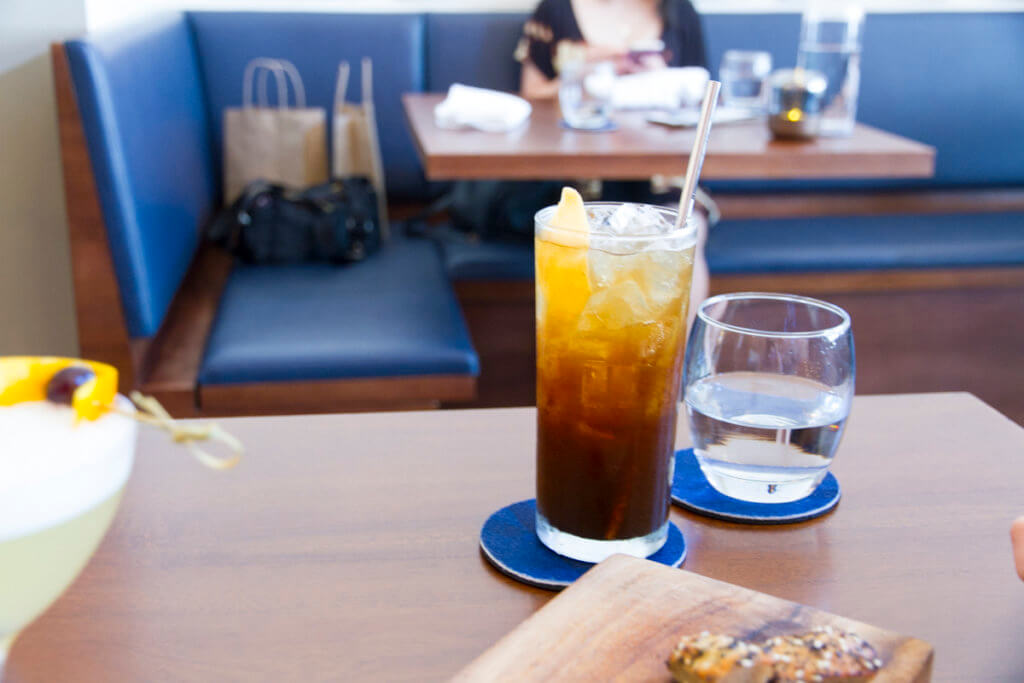 It's a refreshing, tart, spicy (not hot spicy) drink made of Seedlip Spice, tamarind, ginger, and lilikoi.  Me?  I tried the Yuzu Sour.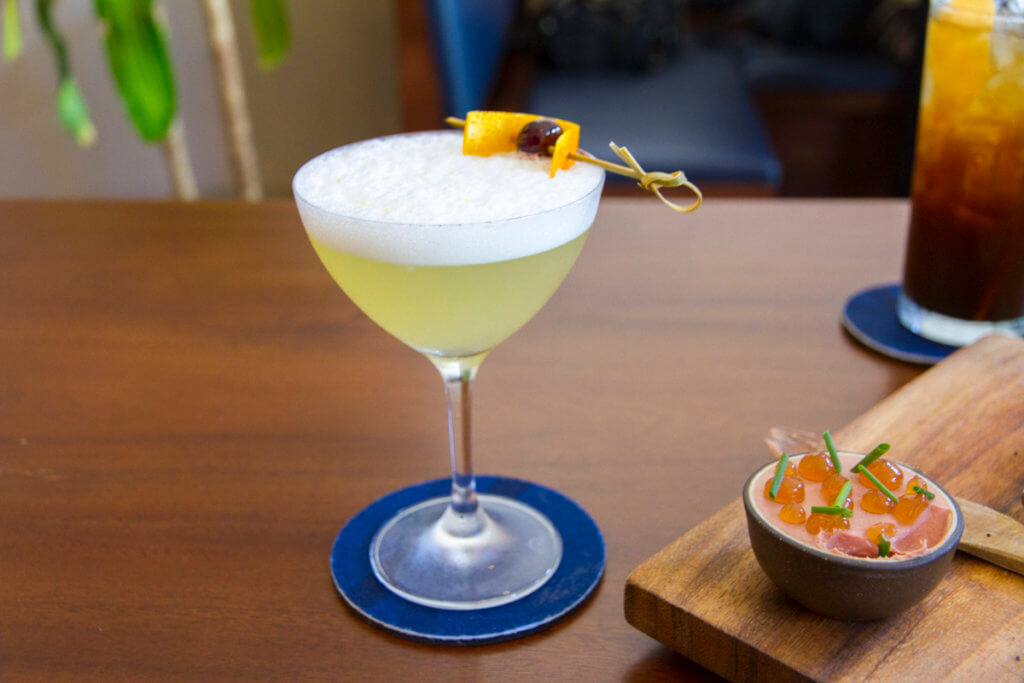 My drink was also refreshing, though it has a more herbal, vegetal flavor to it.  This is likely thanks to the use of Seedlip Garden in addition to yuzu and egg whites.  It's not for everyone, but I like it.
If you'd like to have something with a kick, though, I personally recommend The Kaji.
Snacks
At lunch, Senia's menu is a prix fixe, 3-course menu.  However, there is a small selection of snacks from the dinner menu too.  Not wanting to fill up too much, we decided to order one snack, the chicken liver mousse.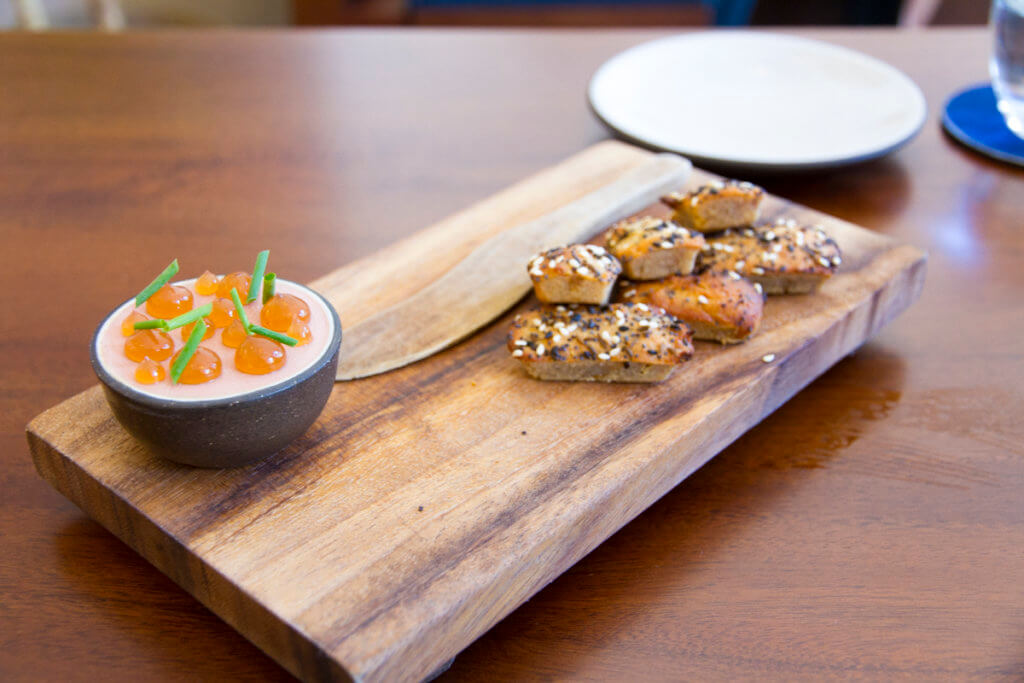 We ordered this snack last time too, and that's because it's delicious.  Served with Everything Spice Financiers, it's a delightfully tasty snack with excellent, contrasting flavors.  Think it's going to be gamey or mealy?  Think again.  This chicken liver mousse is very smooth with a beautifully meaty, umami punch.
Lunch
Your order is taken all at once to speed service and keep things simple.  And for her starter, Mrs. Island Miler chose Tuna Tataki.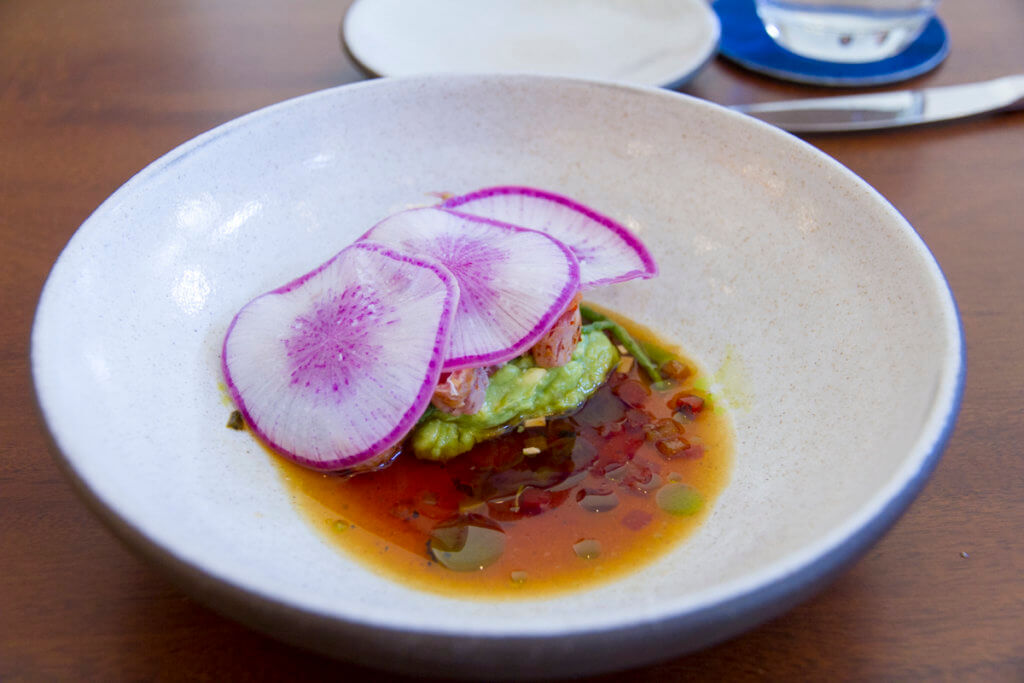 I didn't try any of it, but she loved it.  Perfectly seasoned, fresh, local ahi served atop of avocado?  What's not to like?  I went the other way with my starter and chose the Beef Tartare.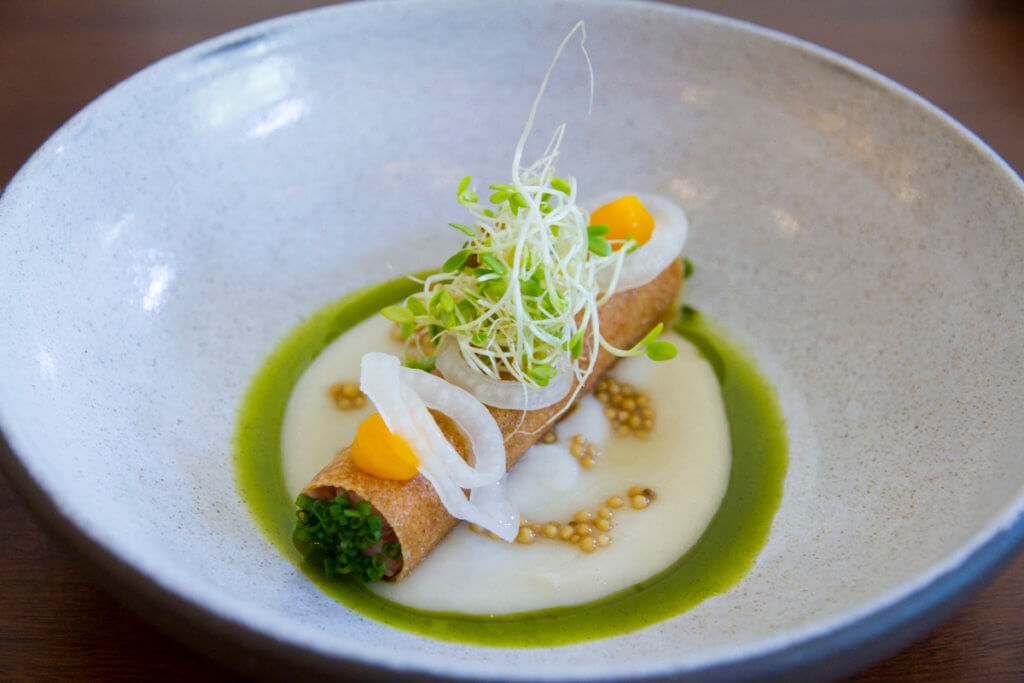 This isn't your average tartare, though.  The tartare itself is used to fill a bric pastry shell atop a Maui Onion soubise with mustard seeds, pickled onions, scallion, and alfalfa sprouts.  It's a fantastic bite that, oddly, tastes almost like a nice cold smoked salmon.  If you gave it to someone that refuses to eat beef tartare but likes lox, I guarantee they'll love this.
For our main dishes, Mrs. Island Miler chose the Fried Chicken Banh Mi, while I went with the Porchetta.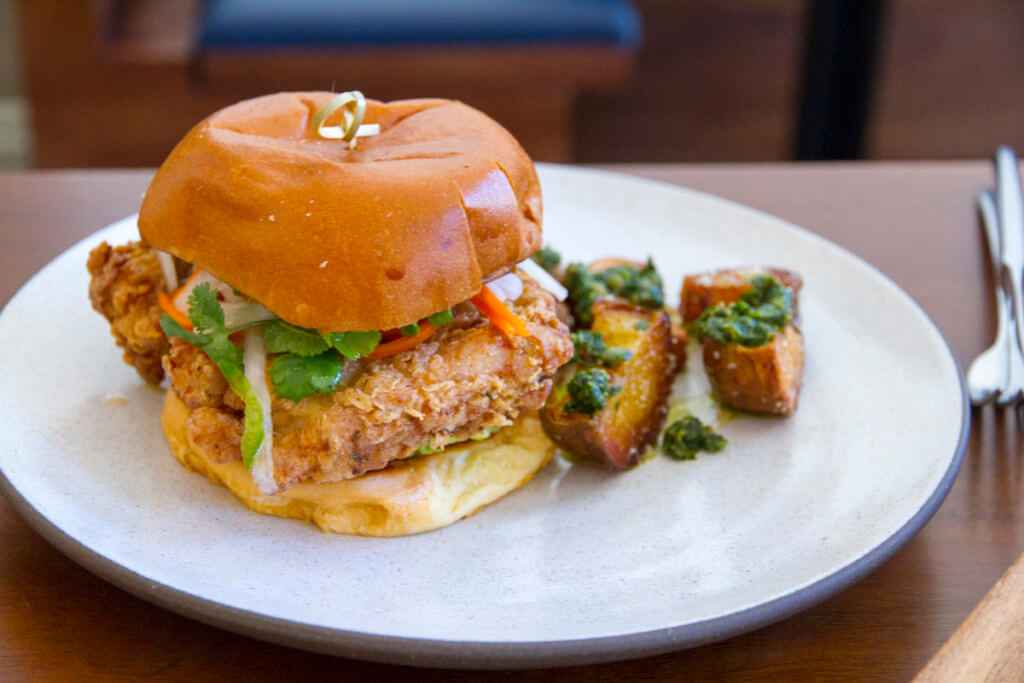 This isn't a traditional banh mi, as it's served on a bun, of course, but it's delicious all the same.  The only conventional items on here are the pickled veggies and herbs.  And the fried chicken?  It's incredibly moist with a perfectly crisp skin.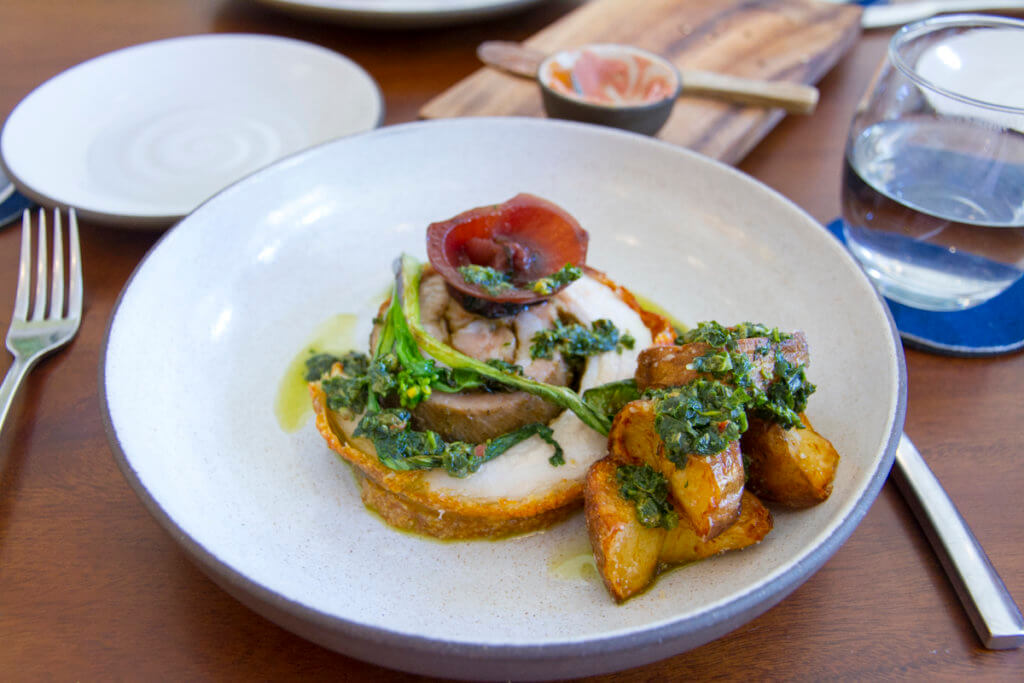 The Porchetta was, well, inexplicably good.  Perfectly seasoned with tons of flavor, the meat is super moist, while the skin is phenomenally crunchy.  It is served with some kale and onion cooked in vinegar, which is much needed with this dish because of the fatty, richness of the pork.  The potatoes served with both dishes are also fantastic, being surprisingly light and fluffy on the inside, but crispy on the outside.
For dessert, there are only two options: the Senia Cookie and a Meyer Lemon Bar.  Mrs. Island Miler ordered the cookie.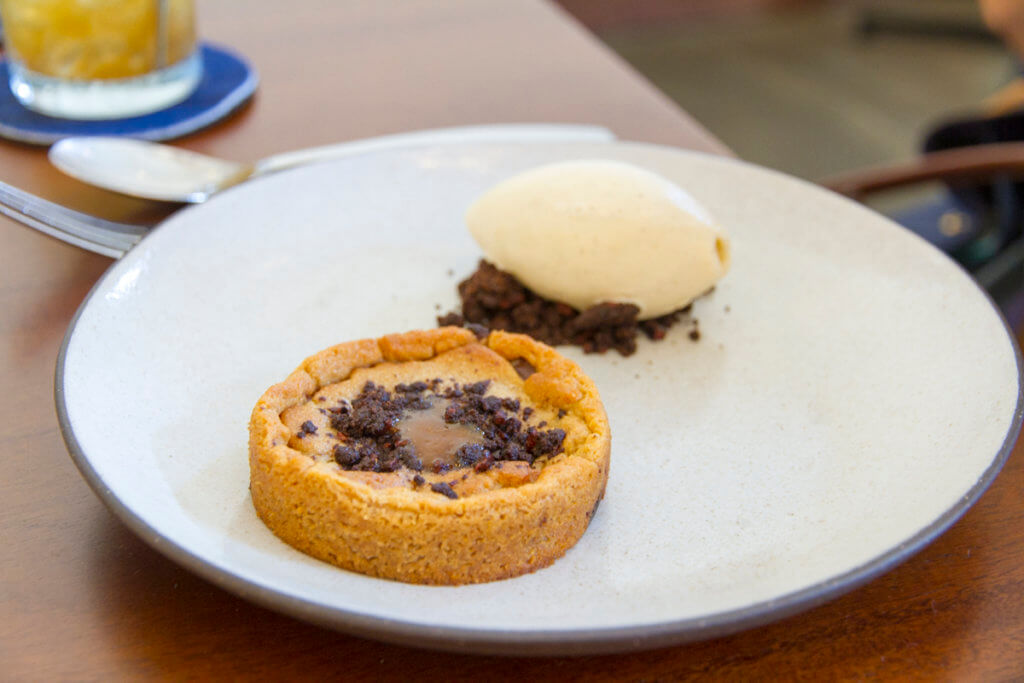 It's an incredibly soft, warm peanut butter, Valrhona chocolate, toffee cookie that Mrs. Island Miler loved.  I'm allergic to peanuts, so sampling was a no-go for me.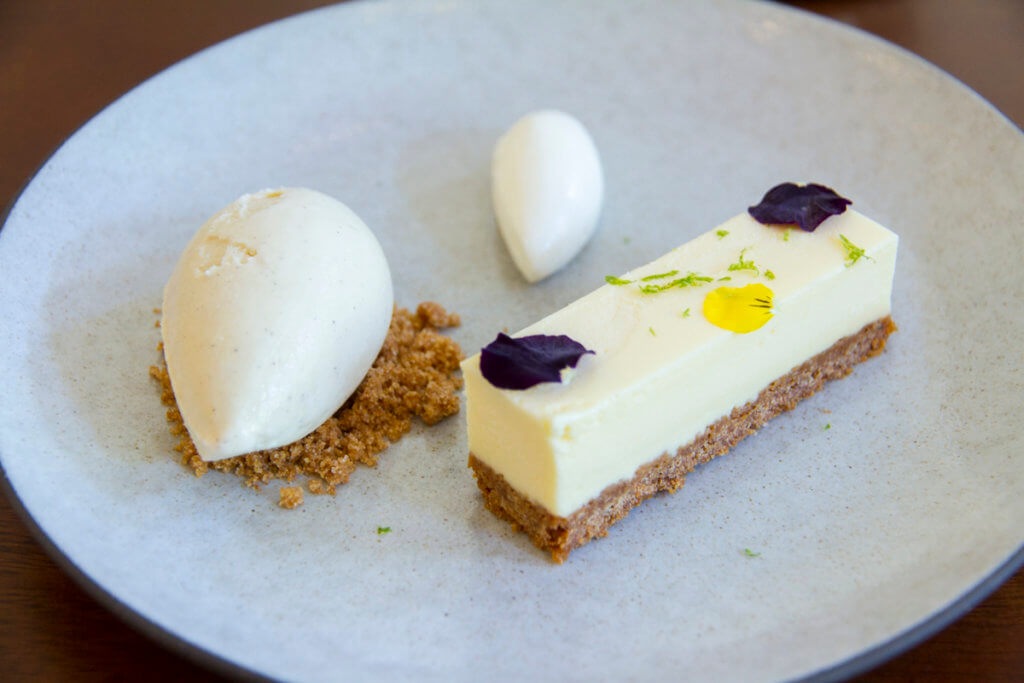 But that's ok because I loved my Meyer Lemon Bar.  This lemony treat is a dense Meyer Lemon parfait atop a speculoos cookie crust.  The bar is slightly creamy, lemony, a little tart, and slightly bitter.  Subtly sweet, the canele of creme fraiche helps to break things up.  We both chose to upgrade with the smoked vanilla ice cream, served over a bed of crushed speculoos.  The ice cream is fantastic being lightly smoky with a subtle vanilla flavor too.
Restaurant Senia Lunch, Final Thoughts
Lunch service at Senia isn't exactly cheap, but it's not expensive either.  If you stick to just the prix fixe menu, lunch will set you back $35 per person plus tax and tip.  But all the additions do add up, and we walked out with a tab of just over $110 for two.  Is it worth it?  You bet.  And it's a great way to experience Senia if you don't want to commit to dinner.  After all, the snacks are the same, though dinner has a larger selection.  But dinner is quite different and I highly recommend it.  And, in fact, Mrs. Island Miler and I do still need to try their Chef's Counter experience, which is similar to what Kajioka used to do at Vintage Cave.