The final segment of my Las Vegas 2018 adventure was my flight home.  For this, I chose to fly Virgin America Main Cabin SFO-HNL.  So it's going to be a little similar to my previous installment, but not quite the same.
Since my previous flight landed two hours late, I didn't have time to check out any lounges.  No, instead all I had time for was a quick restroom stop and a moderate walk over to my next gate.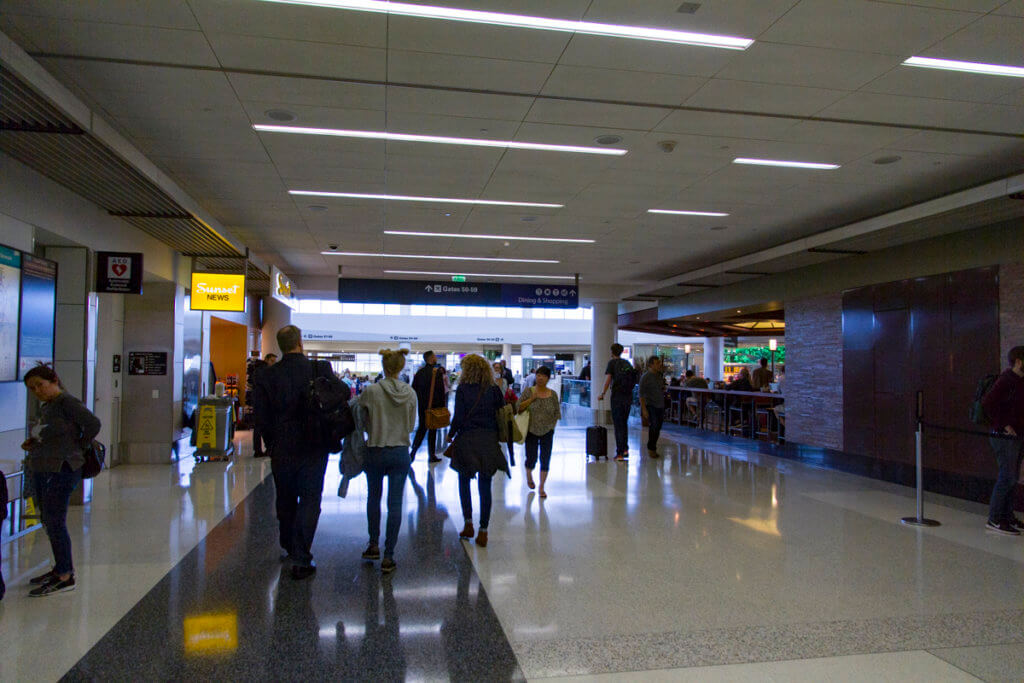 My arrival Gate was in Concourse C of Terminal 2, while my departure gate was in Concourse D at an American Airlines gate.  The walk through the airport wasn't bad nor was it long, but I didn't have time to stop and look at the art displays.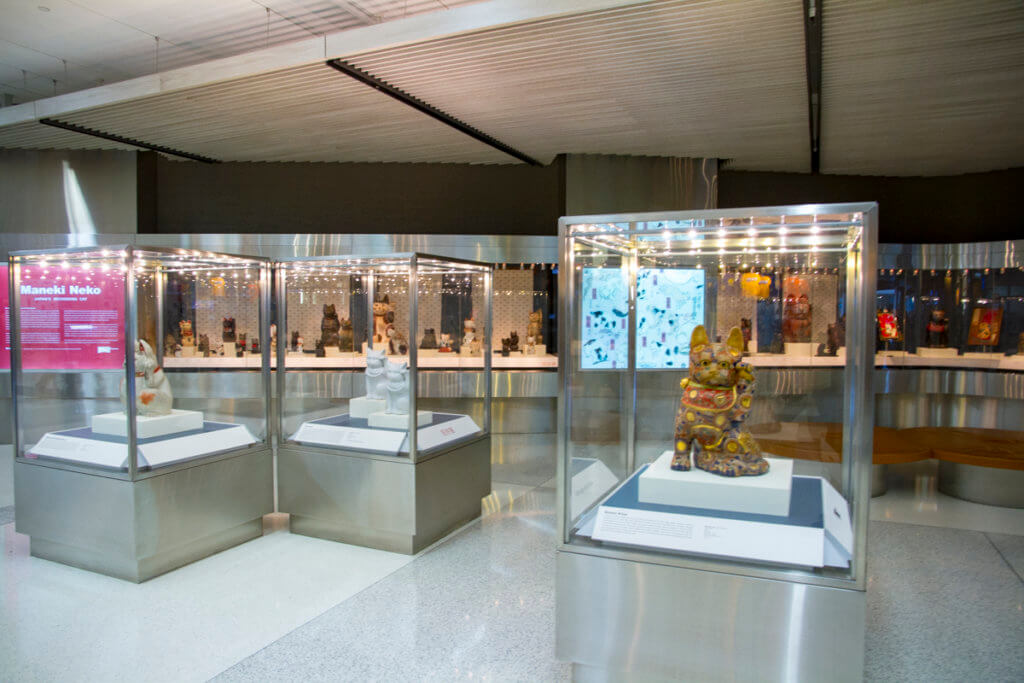 Nor did I have time to stop at Napa Farms Market, which I was looking forward to.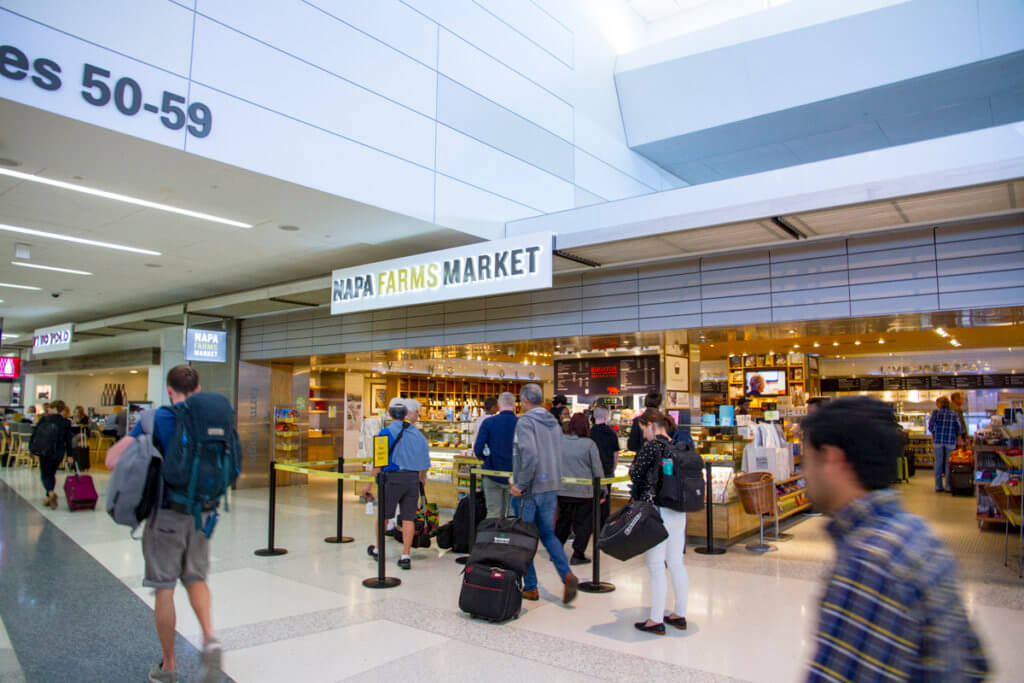 But, I was able to snap some nice photos of Alaska Air aircraft on the way over.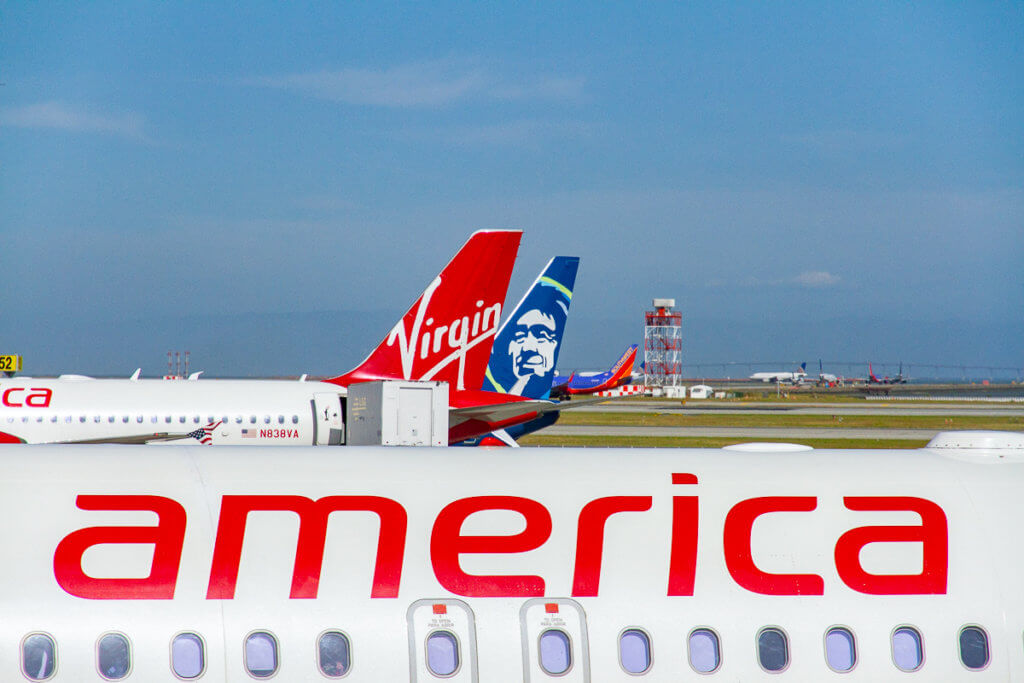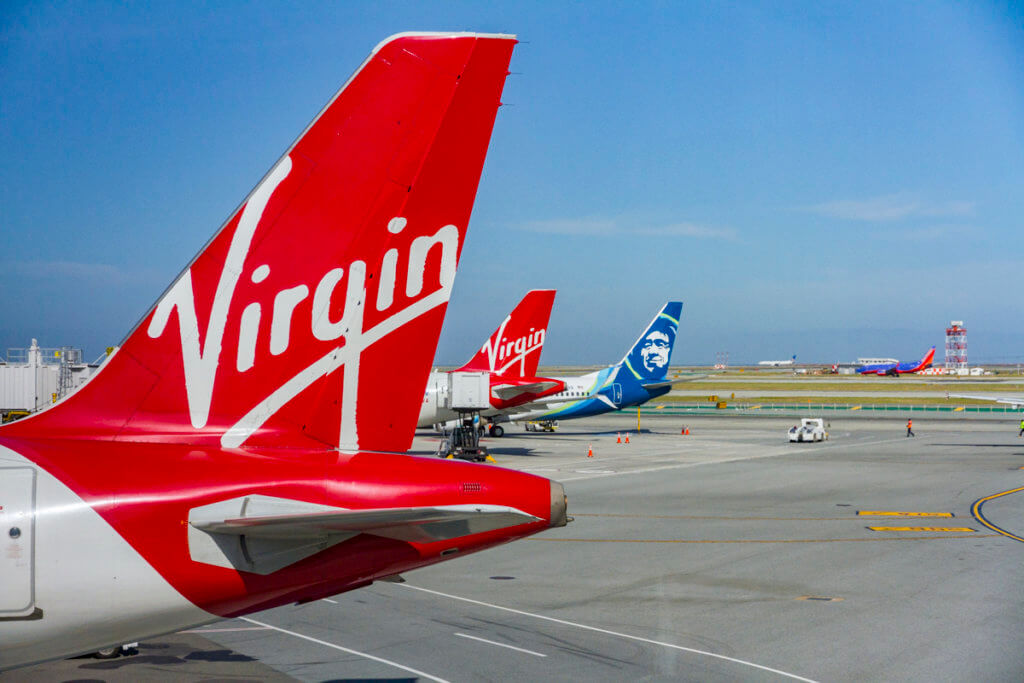 Boarding
When I got to my boarding gate, things were already a mess.  I got there at about 4:40 pm, with boarding scheduled to begin at 4:50 pm.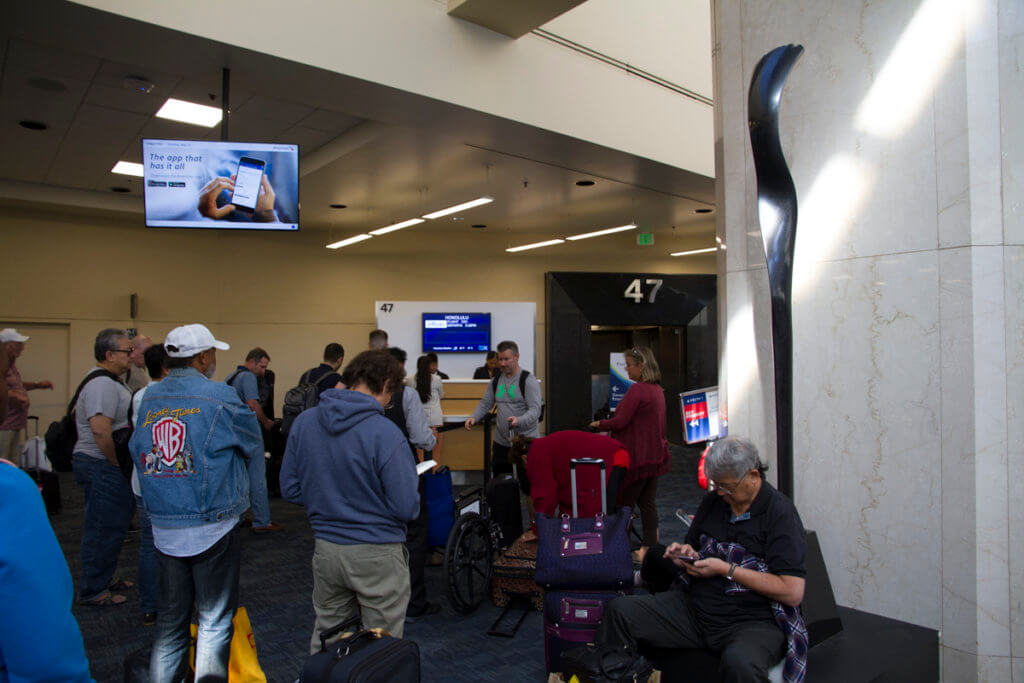 There was NO seating area whatsoever, and the announcements were soft and garbled, so no one knew what the hell was going on.  But, eventually pre-boarding began at 5:00 pm, with the general boarding call being made at 5:06 pm.  Being unable to understand the announcement with Alaska's, at the time, complicated boarding process, almost everyone began lining up.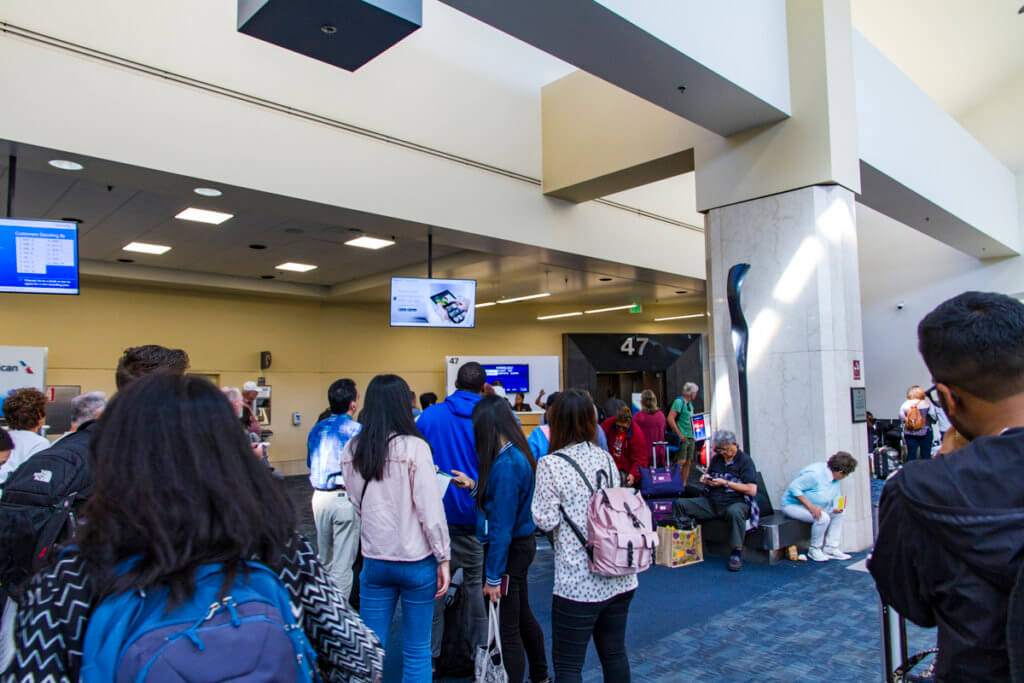 This, of course, made things a bit more chaotic than it should have been.  But I knew I'd be in the final boarding zone anyway, as I sat myself in the front half of the aircraft.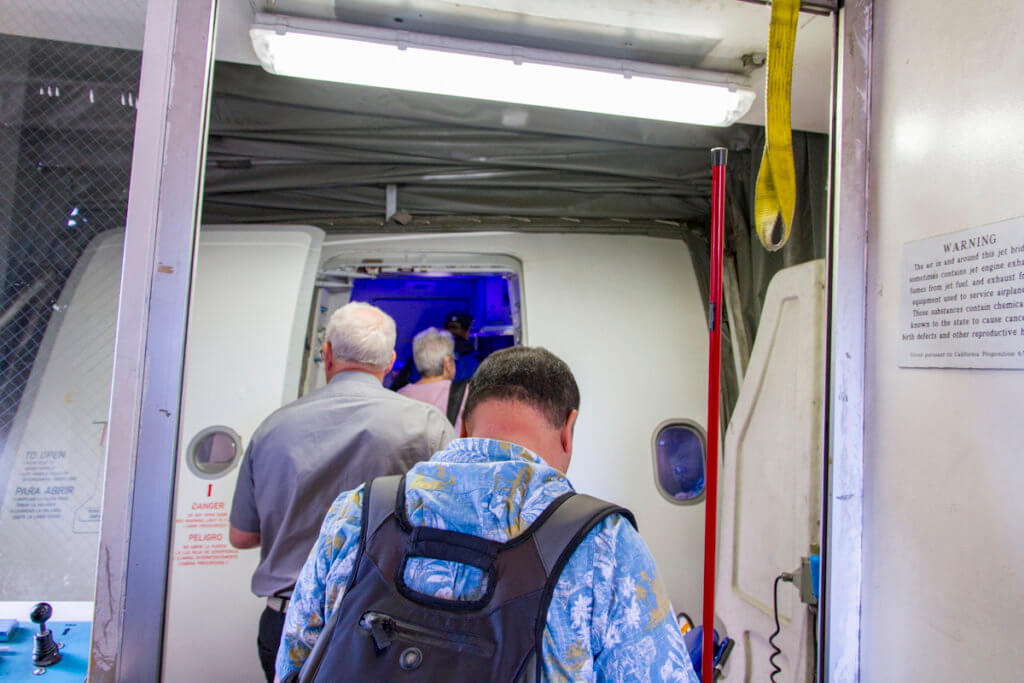 Seating
Unlike my previous flight, I didn't pay to upgrade to Main Cabin Select.  It's $99 for flights to and from Hawaii, which is what Alaska charges for Premium Class on it their pre-merger flights.  And so that meant the same seat as the prior flight, but with less legroom.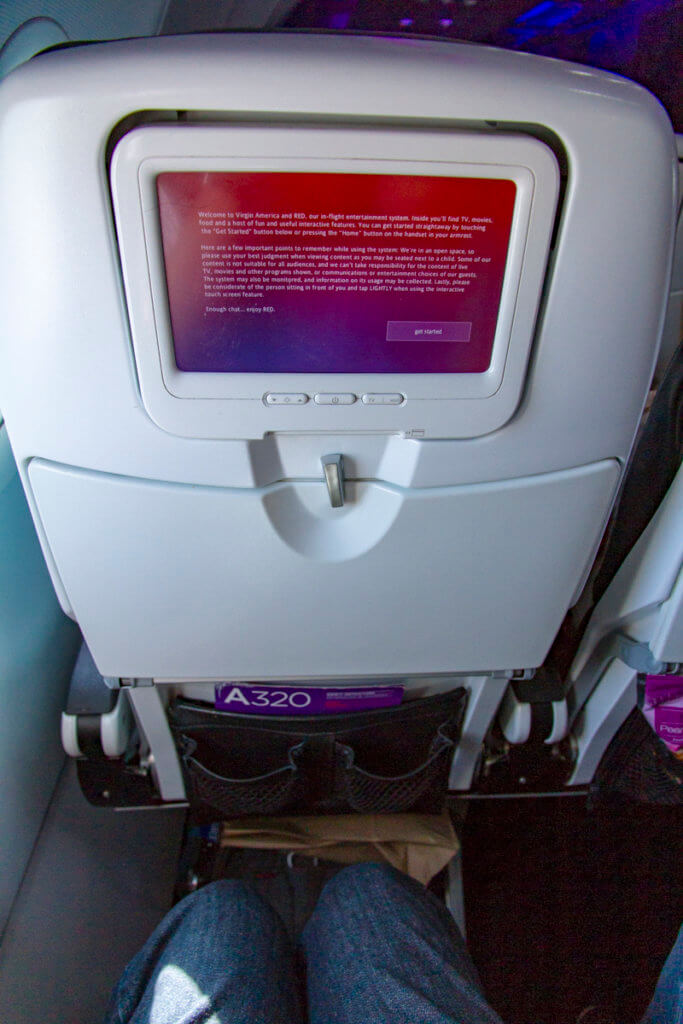 Pre-merger Virgin America offers 32" of pitch in Main Cabin versus the 38" of pitch in Main Cabin Select.  And, aside from the legroom, the biggest difference between Main Cabin and Main Cabin Select is the complimentary offerings or lack thereof.  But more on that later.
Alaska Air 1051
Boarding too about 30 minutes to complete with the door closing at 5:36 pm.  Then, at 5:42 pm we began our pushback from the gate, just a few minutes behind schedule.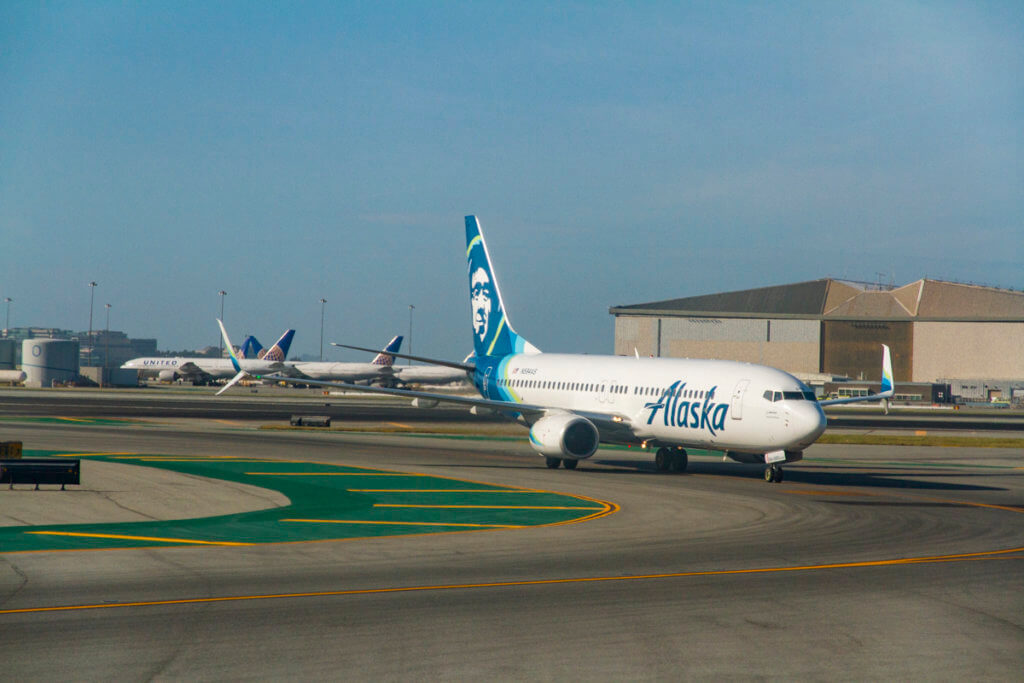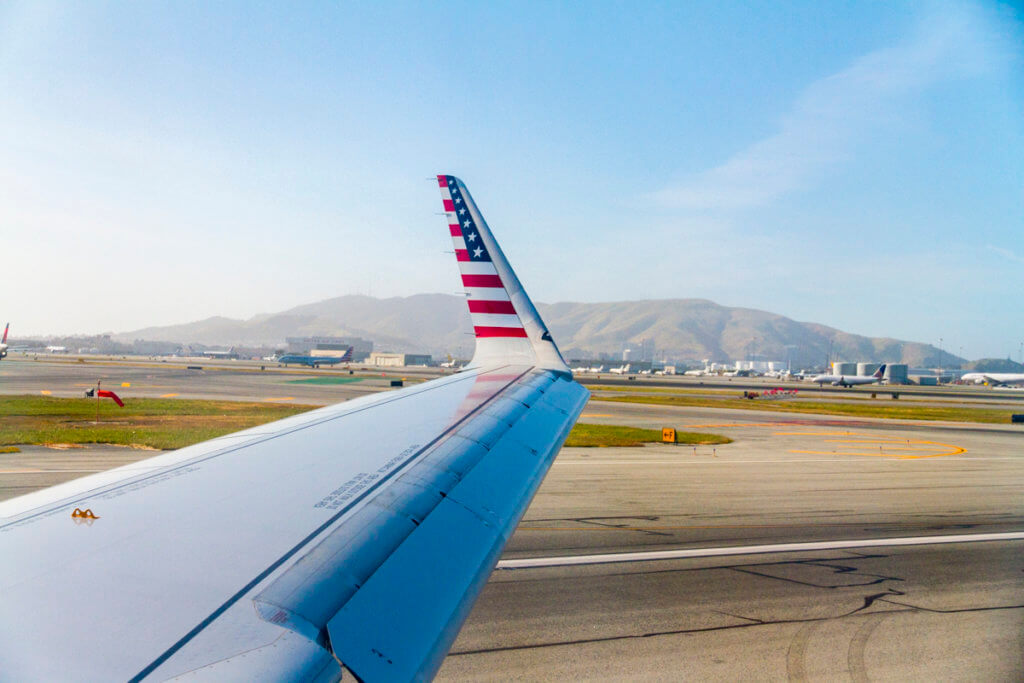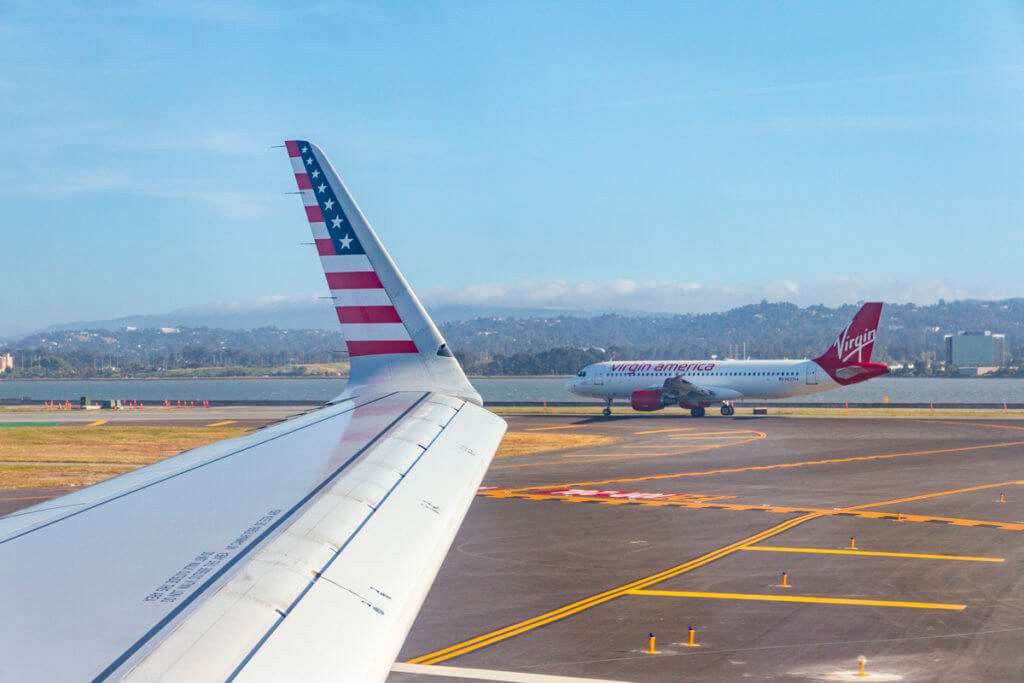 Then, after a 14-minute taxi, we began our take-off roll at 5:56 pm on SFO's runway 28L.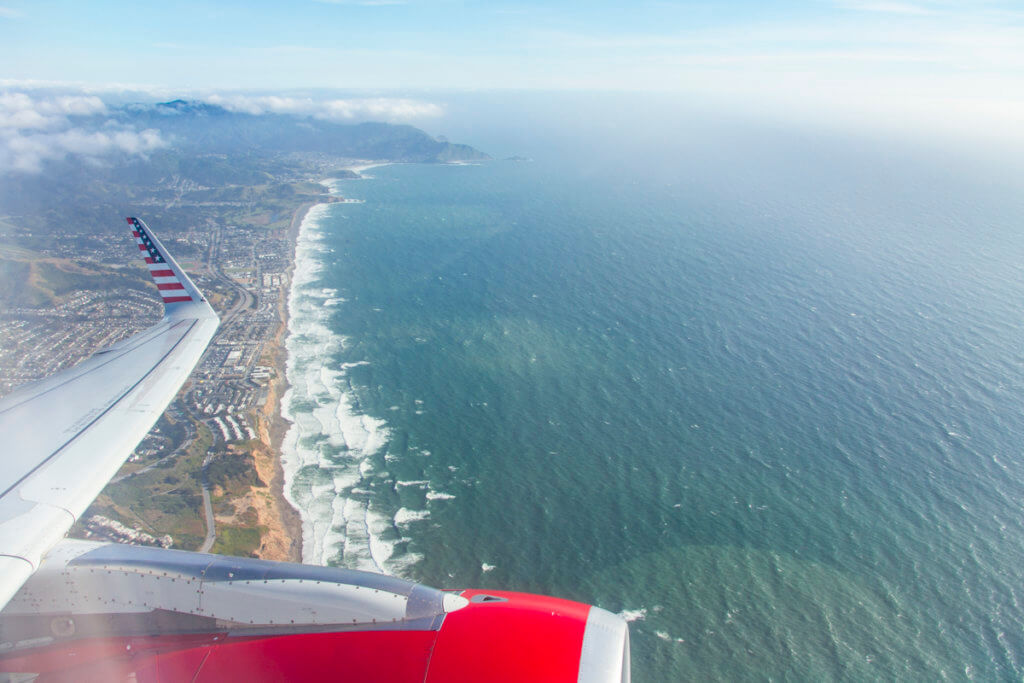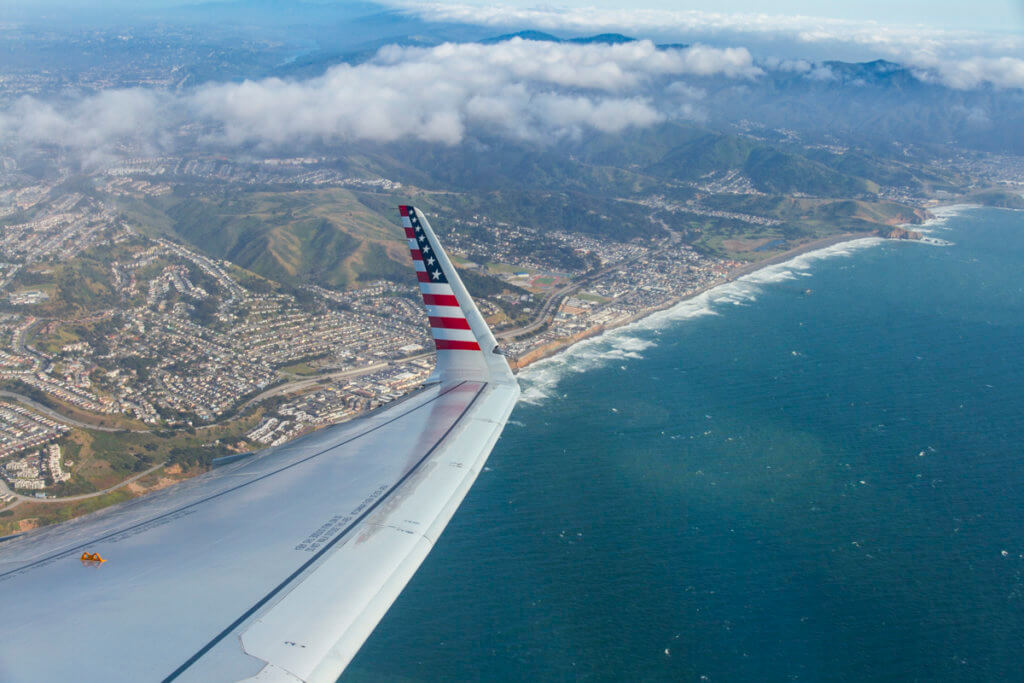 As mentioned earlier, the most significant difference between Main Cabin and Main Cabin Select, aside from the space, are the in-flight offerings.
Pricing isn't bad, and the food looks to be of high-quality.  In fact, I've heard great things about pre-merger Virgin America's catering.  And, at that time, the catering still hadn't changed.  I, however, didn't partake, as I wasn't hungry.  But the flight attendants did do their initial service 35 minutes after take-off, while on-demand ordering did work throughout the flight.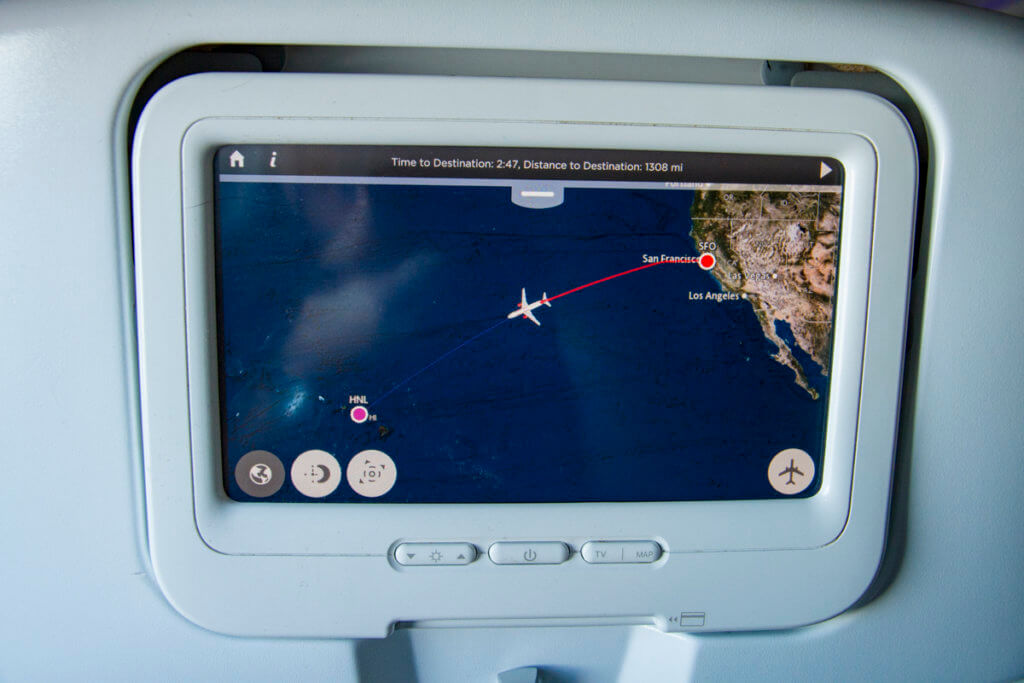 The flight was, uneventful, and I passed the time by watching a few shows on the entertainment system, on my phone, and by napping.  But as we got closer to Hawaii and the sun began to set, the view out the window became mesmerizing.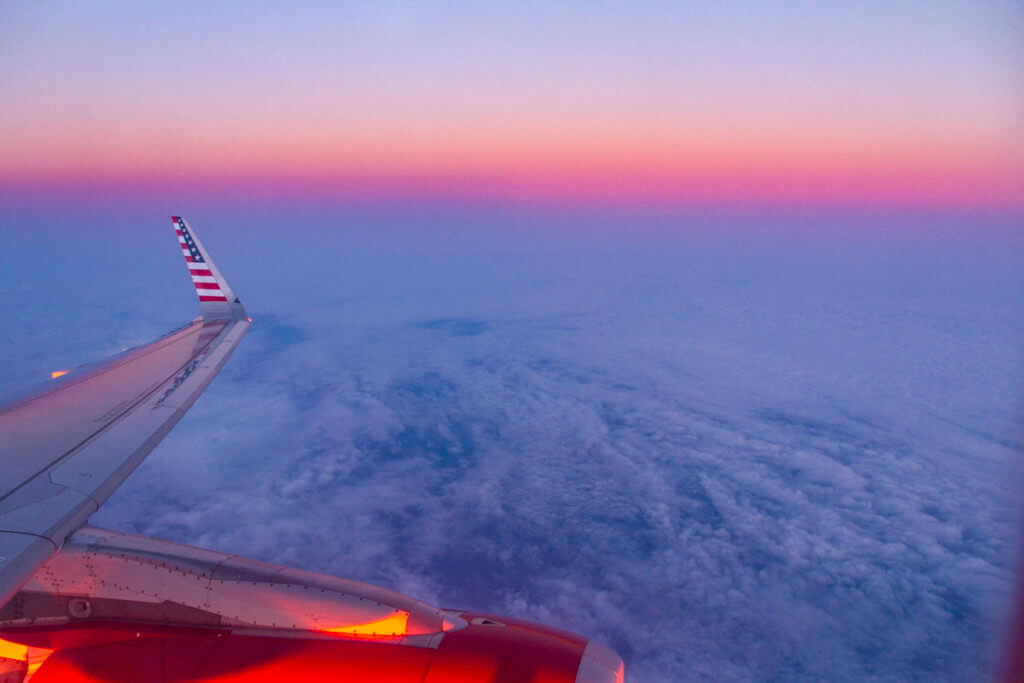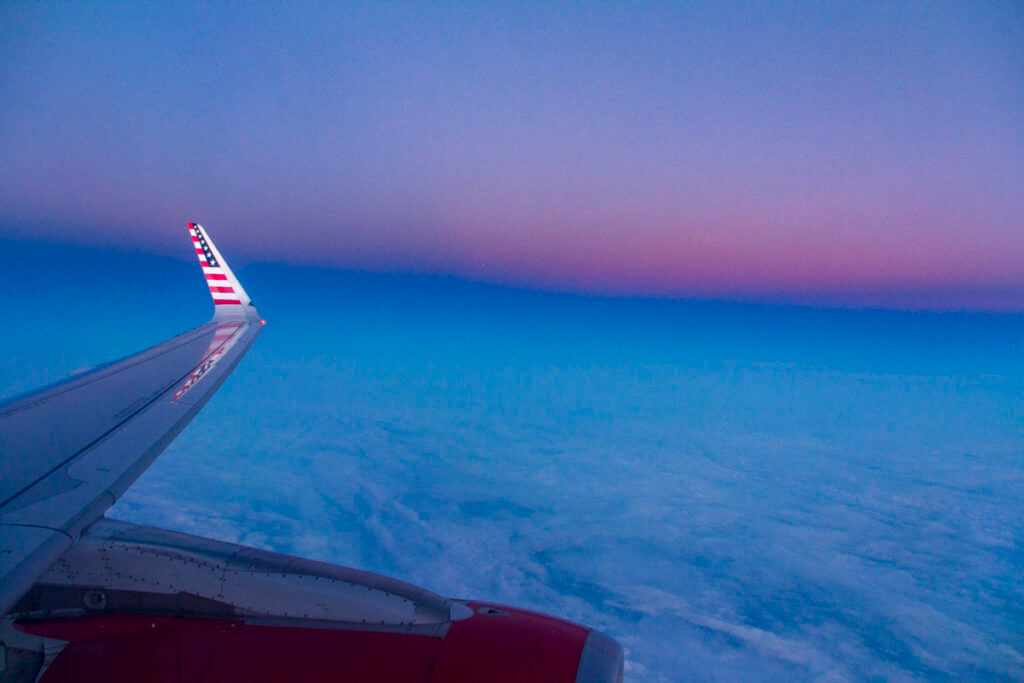 And, of course, as about an hour or two out from Honolulu, the flight crew came around with the Hawaii Agriculture Card.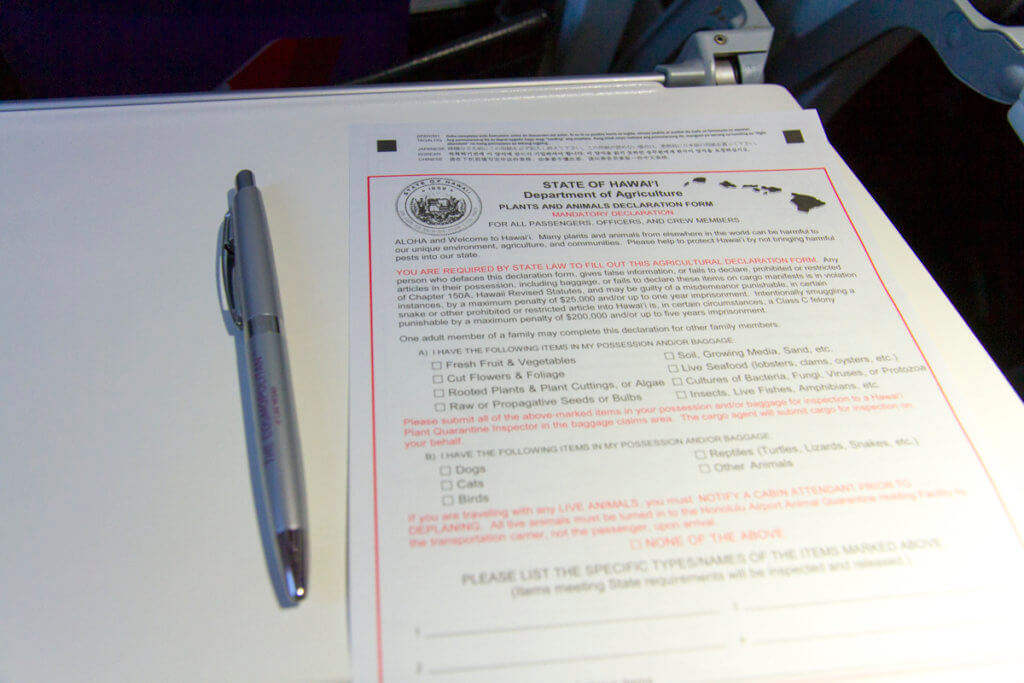 It's also worth noting that the flight attendants did a credit card pitch during the flight.  But the Captain and his announcements were fantastic!  He gave updates regarding the weather in Hawaii and even went over VOG and its potential implications for people on the ground.
Then, at 7:27 pm HST or 10:27 pm PT, we began our descent, touching down in Honolulu at 7:49 pm.  And, after taxiing for a few minutes, we parked at Gate 14 at 7:52 pm.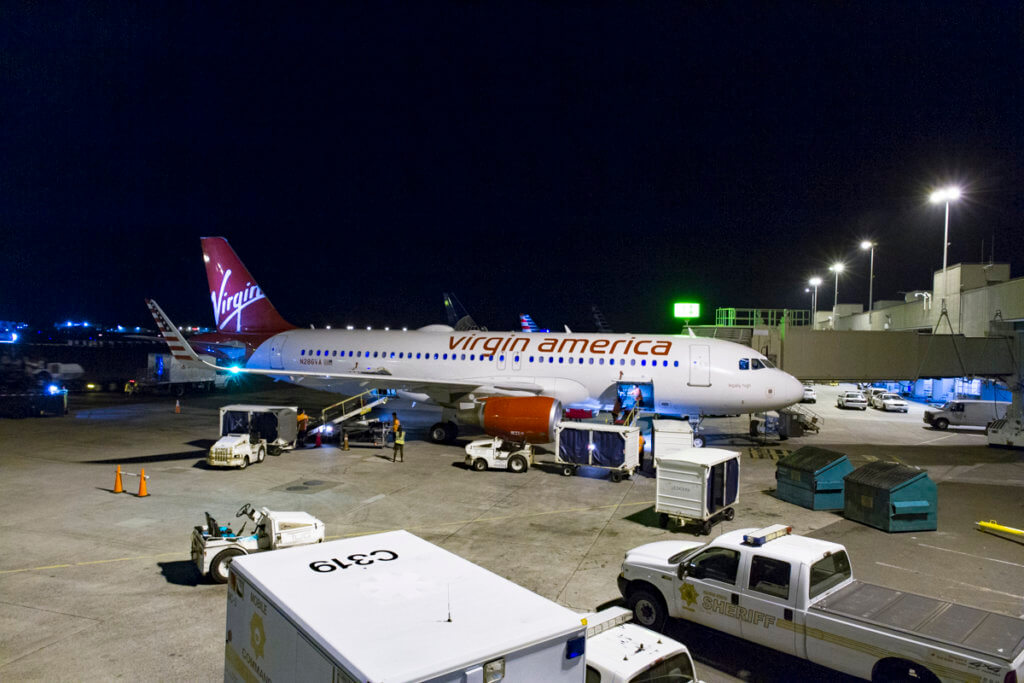 I got off the aircraft pretty quickly and made my way over to baggage claim E2 at around 8:00 pm.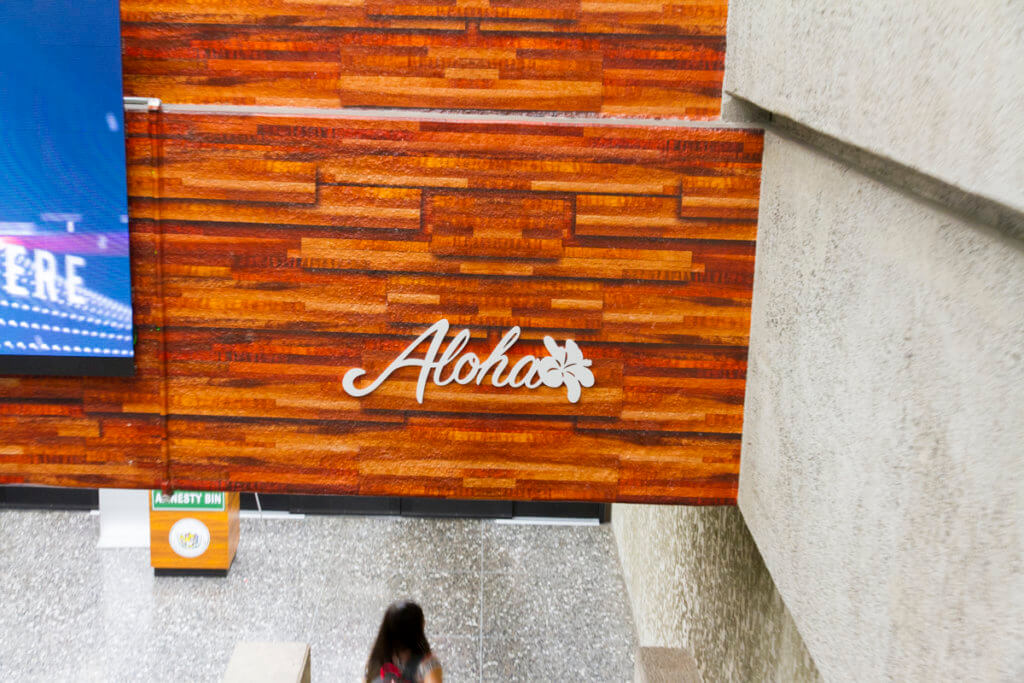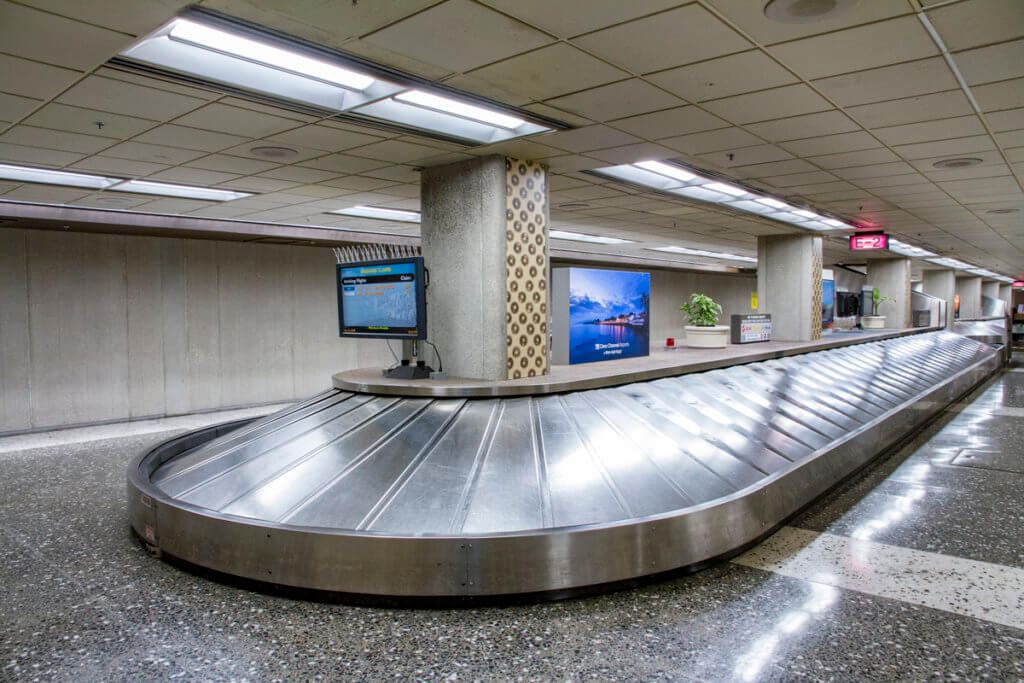 And, this being Alaska, bags began appearing on the belt at 8:04 pm.  Two minutes later, I got my bag and headed out.
Virgin America Main Cabin SFO-HNL, Final Thoughts
Though not as late as my LAS-SFO flight, this flight also wasn't as pleasant.  The flight crew wasn't as friendly or proactive as the previous flight, but since I didn't order anything, this didn't matter to me.  That being said, this flight was far more comfortable than my flight to Vegas.  And, unlike Hawaiian, Alaska doesn't try to sale you as much, whether it be credit card offers or other products.
With all that said, I'm glad I got to experience Virgin America's style of service during my two flights home.  These flights could very well be the first and last time I get to experience Virgin America.  It just depends on how quickly Alaska Air adjusts pre-merger Virgin America's fleet going forward.  So we'll see when I travel to Northern California.  One of my flights back home, the SFO-SEA leg is being operated by pre-merger Virgin America.
Las Vegas 2018
Virgin America Main Cabin SFO-HNL